Our science courses meet in the Kimsey Science and Technology Center, designed in consultation with Rensselaer Polytechnic Institute.
The Kimsey Center includes five wet labs, three dry labs, six traditional classrooms and a computer lab.
Within these state-of-the-art facilities, we provide students with cutting-edge equipment and probeware designed to interact with the 1:1 iPad program.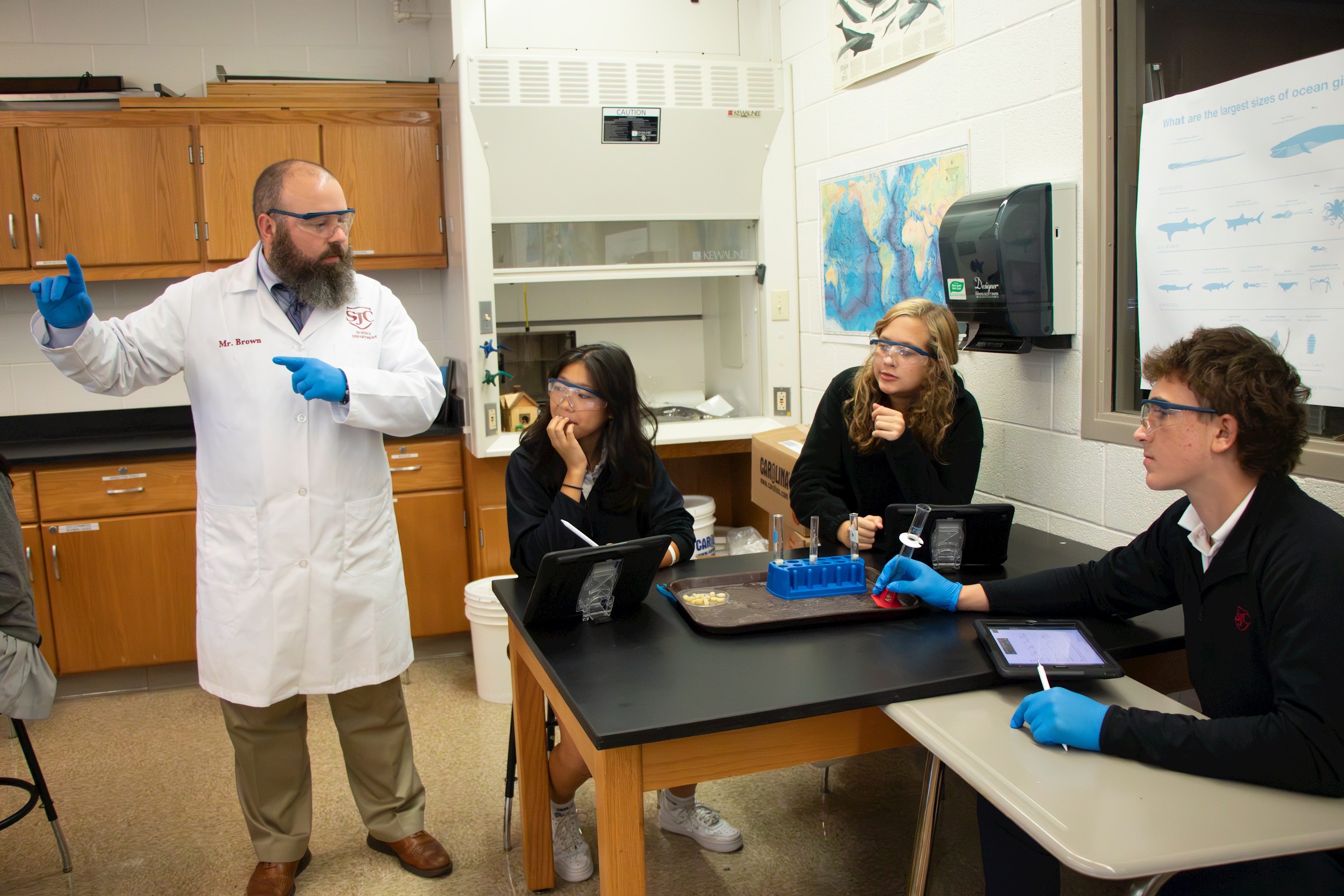 Course Offerings
Biology
Chemistry
Physics
Honors Anatomy and Physiology
Honors Biology
Honors Chemistry
AP Biology
AP Chemistry
AP Physics 1
AP Physics C
AP Environmental Science
Astronomy
Marine Biology
Topics in Chemistry
Topics in Physics
Students are required to take biology, chemistry, and physics in their first three years at St. John's. Students approved for Advanced Placement course may substitute that course in place of physics. Although only three years of science are required, 90% of our students elect to take a fourth year, with more than 15% taking five classes in their four years at SJC.
The Science Department provides opportunities to succeed for students of all skill levels. In addition to the general level classes, we also offer topics, honors, and Advanced Placement courses. Topics classes are designed for students who require additional reinforcement of math skills, while honors and AP courses provide a more rigorous curriculum that prepares students for upper-level college science courses.
---
Extracurricular Opportunities
Robotics Team
The St. John's Robotics Team competes in the U.S. First Regional Robotics Competition against other national and international teams. The Robotics Team meets weekly throughout the fall and daily in January and February to facilitate the design and construction of their team's competitive robot. Any student with a passion for building, tinkering, or programming should investigate the team's opportunities. SJC Robotics also has a direct correlation to engineering careers for students who would like to study that field.
ECO Club
Members plan and implement green initiatives on campus, coordinate Earth Day activities, and help prevent colony collapse disorder by monitoring and maintaining St. John's local beehives. Students meet in an Eco Club–dedicated homeroom.
---
S.H.R.E.D. Club
Students promote eco-mindedness and help preserve natural resources by coordinating the St. John's recycling program.