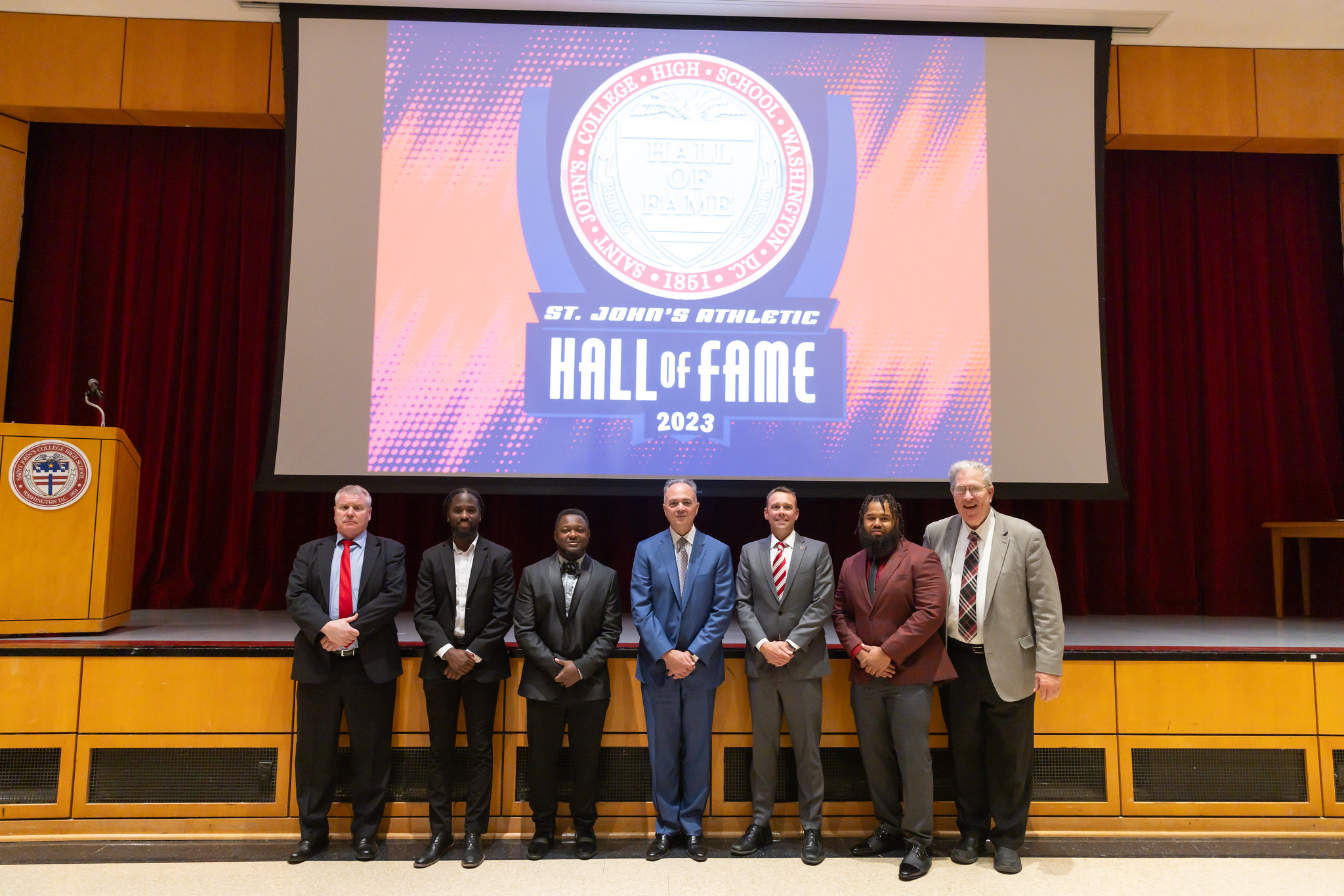 2023 Athletic Hall of Fame Inductees
On Nov. 3, alumni, friends, and family gathered in Frana Auditorium to celebrate the newest inductees to the Athletic Hall of Fame.
2023 Inductees
Lindsay Allen '13
Antwon Bailey '08
Jack Crawford '82
Mark Gibbs '96
Kevin Jez '78
Andre Monroe '10
John Ricca
1957 Golf Team
1962 Football Team
2006 Girls' Tennis Team
Click here to view photos from the night. Learn more about our inductees here.
The 2022 President's Medal Celebration
More than 500 members of the St. John's College High School Community attended the 2022 President's Medal Celebration on Friday, Nov. 4. The event, which included a cocktail reception, dinner, and presentation, took place at the Ritz-Carlton in Washington, D.C. President Jeff Mancabelli presented the awards—SJC's highest honor bestowed upon those who have made the greatest contributions to St. John's and the larger community—to the following recipients:

• Catholic school educator Doreen Engel
• Award-winning playwright Branden Jacobs-Jenkins '02
• Community leaders Chris and James Kernan '70
• Business leader James O'Connell '73
• Rear Admiral David Rogers '54, U.S. Navy (Ret.).

St. John's thanks the school's Cadet Corps, Vocal Resonance, and Regimental Band, and all those benefactors who contributed to the success of this bi-annual celebration.

​​​​​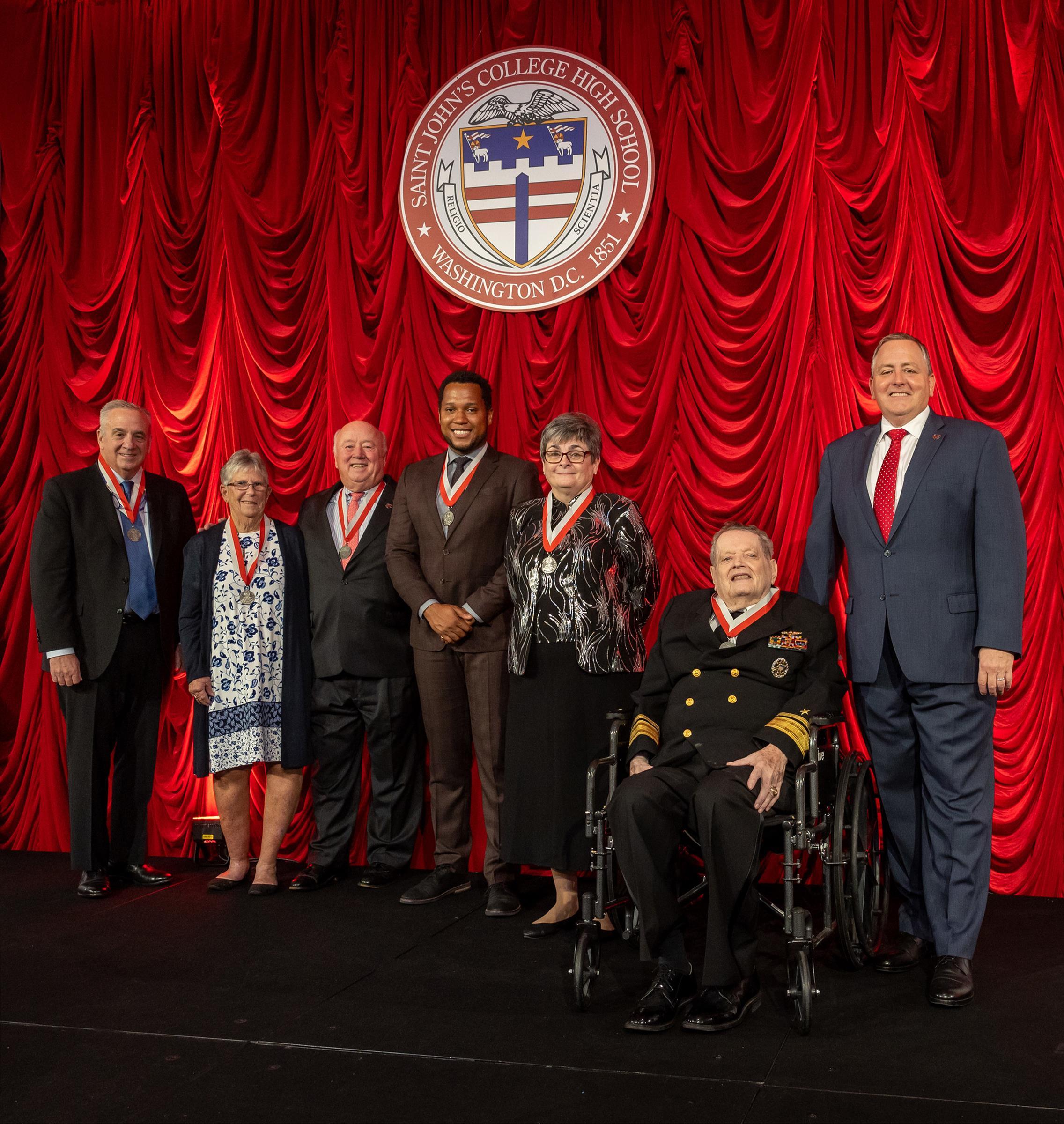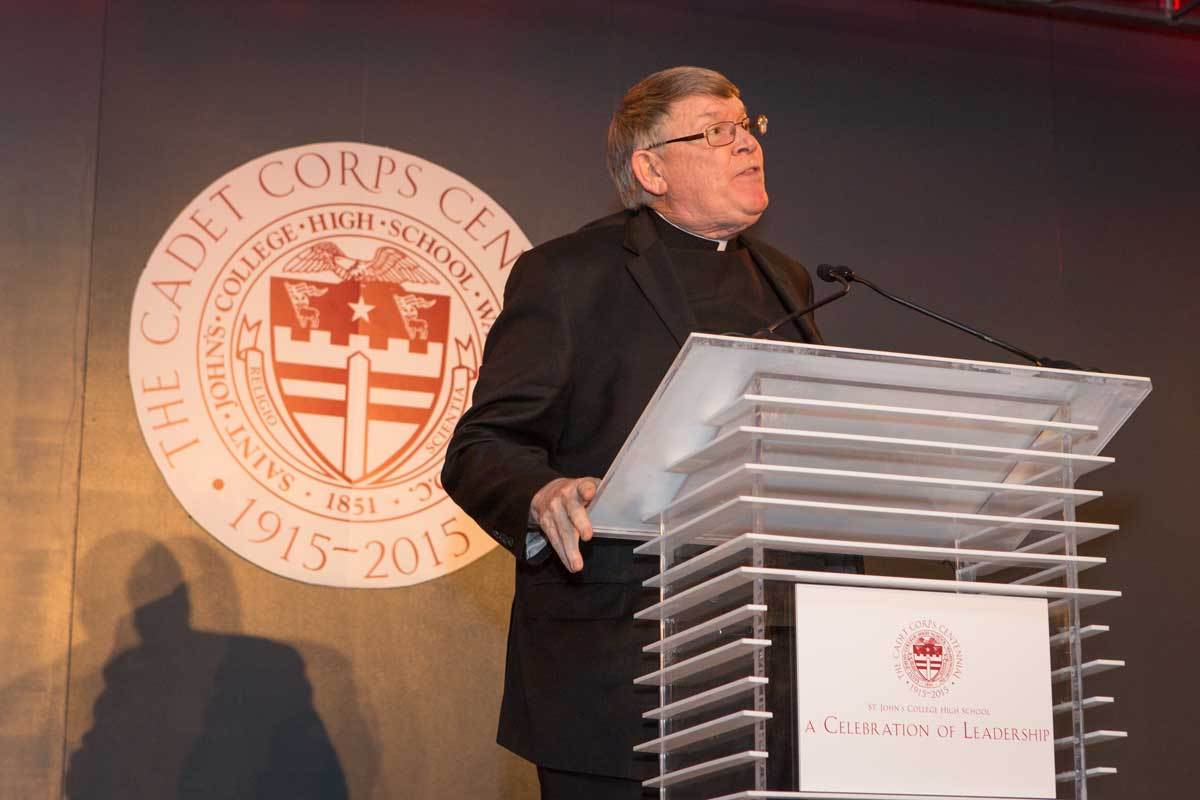 Cadet Corps Centennial
A Celebration 100 Years in the Making
On Nov. 6, 2015, St. John's commemorated 100 years of the Cadet Corps program at The Cadet Corps Centennial: A Celebration of Leadership.
This historic event included more than 1,000 alumni, parents, students, faculty, staff and friends of St. John's and was the largest gathering of the St. John's community in school history. It was held at the JW Marriott in Washington, DC.

Proceeds from this fundraising event were used to support current scholarships dedicated to students in the Cadet Corps, to support the overall capital campaign and to establish a Hall of Honor recognizing St. John's alumni who have made the ultimate sacrifice in service to their country and depicting the history of the Corps of Cadets.
Celebration Co-Chairs
Celebration Committee
Bro. Michael Andrejko, FSC
Maj. Gen. Ronald (USMC Ret.) '53 and Judith Beckwith
Bro. Mark Brown, FSC
Gen. Michael (USAF Ret.) '55 and Victoria Carns
Lou '52 and Ann Donatelli
Dr. R. Michael '44 and Barbara Dowe
Raul '84 and Jean-Marie Fernandez
Tom '65 and Karen Frana (SJC Board Chair)
Bro. Thomas Gerrow, FSC
Patrick J. Hannan '38
James V. Kimsey '57
Lindsey '98 and Edmund Wilkes LoPresti
John '66 and Jan Magnolia
Tara Renzi Mastro '92
Robert '58 and Mary McCleary
Charles McGovern
Cap '61 and Christina Mona
Kevin '90 and D.J. Plank
Karl Racine '81
Gov. Thomas and Michele Ridge (P '04, '06)
Adm. David (USN Ret.) '54 and Barbara Rogers
Donald '61 and Mary Beth Roth
Billy '54 and Betty Scaggs
George and Stephanie Tenet (P '05)
Centennial Co-Chairs
Jim Kernan '70

Michael Borger (CC) '07
Centennial Committee
Protocol
LtC Anthony Aquino '88
Maj. Gen. Erv Lessel III '75 (USAF Ret.)
CSM John McConnell
Cadet Colonel
James O'Connell (CC) '73
Rich Sanders (CC) '89
Joe Serra (CC) '91
Parent Division
Barry Miller (P '17)
Michael Nadonley (P '16)
John Rosa (P '07, '13, '15)
Anita Stiger (P '16)
Alumni Division
Philip Brach '85
Matt Conway '85
Pat Dunn '03
1st Lt. Brian Jones, USMC '04
Alexandra Kennedy (CC) '05
Bill Mulholland '76
Keith O'Donnell '86
Matt Ritz '97
Musical Director