This generosity strengthens the school's programs and serves as an important endorsement of our mission to form men and women dedicated to achievement, service, and leadership. This essential financial support is applied to areas of need, including:
Adding crucial funding to enhance academic and co-curricular programs
Ensuring all qualified students can attend through our tuition assistance programs
Expanding the Christian Service Program
The St. John's Annual Fund is essential to the school's operational budget. Gifts may be directed to the area of greatest need, or to programs including athletics, the arts, tuition assistance, or faculty enrichment.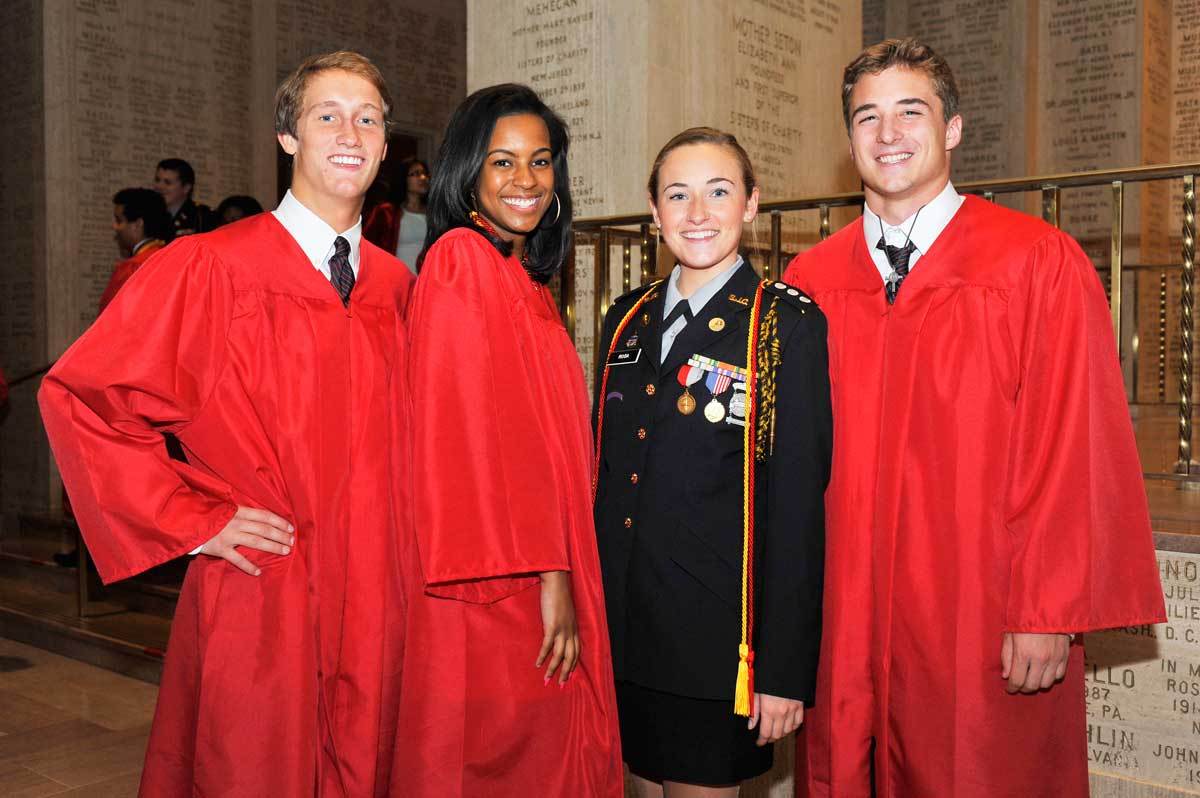 ---
Giving Club Levels

1851 Club
$50,000 and over
Lasallian Club
$10,000 to $49,000
President's Club
$5,000 to $9,999
Christian Brothers' Club
$1,000 to $4,999
Cadet's Club
$500 to $999
Scarlet & Grey Club
up to $499
---
Ways to Give
Make your donation online using our online giving form.
*The required fields are marked with an asterisk.
---
Please make checks payable to "St. John's College High School" and address as follows:
St. John's College High School
Attn: Advancement Office
2607 Military Road, NW
Chevy Chase, DC 20015
St. John's is now on Venmo - find us at @StJohnsCHS
(last 4 digits of phone number: 8992)
St. John's tax ID number is 53-0242993

To transfer stock
US Bank (managed by Brown Advisory)
DTC Clearing #2803
Credit to St. John's College High School Gift Account
A/C #1794002
For gifts of stock

Please include the stock name, the number of shares being transferred, the intended donation amount total, and the fund to which you would like the donation applied (i.e., Annual Fund).
For questions about stock donations, please contact Pete Hauck from Brown Advisory at

[email protected]

or 202-263-0708.
To ensure prompt aknowledgement of your gift, please advise your broker to name you as a trailer on the transaction confirmation or contact Tom Bagwill, SJC's Vice President of Advancement

[email protected]

or 202-363-2316, ext. 1059.
---
Calculating the Value of Your Donation
The valuation of your stock donation should be coordinated with your tax advisor in accordance with IRS publication 561.
Gifts to the endowment are cash or tangible property, such as stock, bonds and real estate, that are invested to generate income for a designated purpose. An endowment gift is held in perpetuity and managed by the Board of Trustees' Finance Committee to generate investment income. Typically, 5% of the investment income is spent for the purpose designated by the donor and any income in excess of 5% is returned to the endowment to ensure it continues to grow.
Endowed funds are established for a wide range of purposes, ranging from scholarships to building maintenance to faculty professional development. Endowment gifts may be directed to the general endowment fund or to one of the many endowed scholarships and funds that have been established for a specific purpose.

If you are interested in learning more about endowment gifts or establishing a scholarship fund, please contact Mark Gibbs, Director of Development, at [email protected] or 202-363-2316 ext. 1068.
Capital gifts are essential to the continued improvement and expansion of St. John's facilities.
The current building on Military Road was built in 1959 through an extensive capital campaign.
Over time, the main building has required important renovations and expansion, and the results of recent capital campaigns can be seen in the Kimsey Science Center, the Fitzpatrick Library and Cassidy Commons.
The objective of these campaigns is to ensure St. John's students have the best possible facilities in which to learn, develop, and grow.
As the Board of Trustees continues to develop St. John's master plan, future capital campaigns will provide for needed growth for the school's physical plant.
Meet the Advancement Team
For questions about the St. John's Annual Fund, contact Heather Long, Director of Annual Giving.